The Ruth First Papers: A Digital Archive of the Activist and Journalist's Writing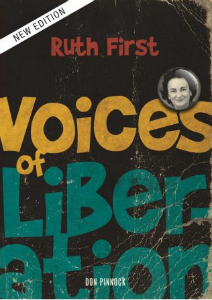 From the Ruth First Papers Website:
The Ruth First Papers are the collected notes and writings of Ruth First, activist, campaigning journalist and scholar. The project aims to create and populate a digital archive of a selection of Ruth First's writings held at the ICwS. It will consist of at least 5,000 pages, digitised and presented as academically rigorous clusters of material, and will electronically publish two of her books currently out of print. This resource will be freely accessible worldwide, accompanied by a website with secondary material including conference items and short academic essays about First's life and work. The resource as a whole will represent a digital version of the Ruth First Resource Centre that was called for in the immediate aftermath of her assassination.
Included in the archives are interviews that Don Pinnock, author of Voices of Liberation: Ruth First recorded with her family between 1987 and 1993, including one with Joe Slovo:
Standard Podcast
Play Now
|
Play in Popup
|
Download
Book details